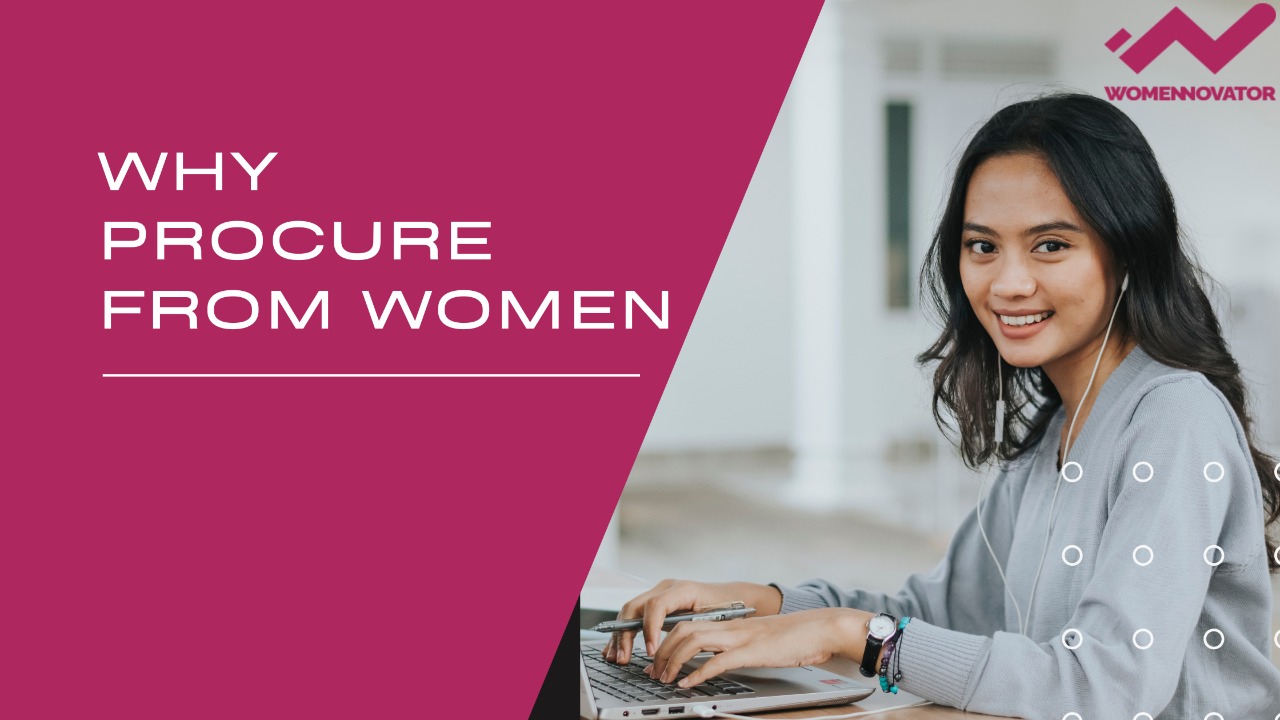 WHY PROCURE FROM WOMEN
Many procurement teams are concentrating their efforts today on creating a pipeline of qualified women to fill top positions and becoming a supplier of choice for women. But what exactly does it all mean, and how can we make gender equality a reality?
Gender equality refers to the idea that everyone should have the same opportunities, obligations, and freedoms to pursue the vocations and ways of life they prefer. It also includes a wide range of benefits for your business, both now and in the future. It is also (finally!) an important element to consider in the modern workplace, when workers will simply choose another job if yours falls short of raising standards. Particularly in light of the Great Resignation, this is accurate.
Over the past 80 years or more, there has been a significant advancement toward gender equality in the workplace. The gender gap is decreasing in the supply management and procurement industries as well. In 38% of procurement teams, women are found, according to a 2018 Oliver Wyman survey, and 60% of CPOs said their company now has more female employees than it did three years ago. However, these ratios drastically decrease as one moves up the corporate ladder, with women only making up 25% of category management committee and procurement management committee seats. Gender inequality is one of the oldest and most common types of inequality in the world. Women are silenced, their labour is undervalued, and men are elevated to positions of authority at all levels, from the domestic to the global. Despite major improvements in recent years, women still have a larger risk of being poor than men, and this is true in every country.
Every central ministry, department, and PSU must now set an annual goal of procuring 25% of their needs from MSEs, according to a directive from the Indian government. A sub-goal of 4% of the 25% annual procurement objective set aside for purchases from MSEs run by SC/ST business owners. Starting on April 1, 2015, a minimum 25% overall procurement goal is required.
For a full description please visit https://msme.gov.in/public-procurement-policy
Why are women more likely to experience poverty than men?
Low pay: Women worldwide tend to work in positions that pay the least. Globally, they make 24 percent less money than men do; if development keeps up this pace, it will take 170 years to close the wage gap. Women are paid to work for 700 million fewer hours than males.
Lack of quality employment: In developing nations, 75% of women work in the unorganised sector of the economy, where they are frequently paid insufficient salaries to lift them out of poverty and are less likely to have employment contracts, legal rights, or social benefits. 600 million individuals work in jobs that are both unstable and least reliable.
Volunteer caregiving: Women provide at least twice as much unpaid care as men do, usually ten times as much, and they frequently conduct this job in addition to their paid employment. The estimated annual value of this effort is at least $10.8 trillion, which is more than three times the size of the global tech industry.
Longer workdays: Women work longer days than men when paid and unpaid labour are taken together. This suggests that a young lady of today will work four more years than a man will globally during the course of her lifetime.
According to Oxfam, gender inequality costs women in developing countries $9 trillion annually. Countries that put gender equality first will see faster economic growth and help put an end to violence against women and girls. The elimination of the gender wage gap, from the standpoint of the workforce, may increase the global GDP by $28 trillion, according to a report from the Council on Foreign Relations. There are many advantages to incorporating gender equality into your role and, consequently, your organisation. According to Catalyst's study, organisations that are gender equal benefit both their male and female employees. By producing work of a higher grade and promoting a happier, more positive work atmosphere, your team will enhance productivity while decreasing staff turnover. Women particularly benefit from gender equality in procurement teams since it allows them to progress in the industry. Gender-responsive public procurement can promote inclusive and long-term growth in the European Union, according to research from the European Institute for Gender Equality. The study found that GRPP might increase GDP per capita by 6.1 to 9.6% by 2050. The greatest benefit to your team members' quality of life comes from the fact that your position supports gender equality. It implies that men can attain a better work-life balance while women find more purpose and fulfilment outside of the office. Companies must communicate to both present employees and potential recruits the availability of flexible work arrangements for supply chain and procurement positions. If you make it clear in the job description that you offer flexible working, your parent company will have a better reputation when it comes to acquiring new talent.
Despite the fact that there are numerous advantages to encouraging gender equality in your procurement team, we have focused on only a handful.
Including a variety of viewpoints and perspectives: If the group has both men and women, you will benefit from a range of experiences and viewpoints. Such perspectives not only offer opportunities for creativity and innovation within your company, but they also raise the bar for challenging pervasive gender stereotypes. A Harvard Business Review analysis found that women beat men on almost all indicators of the characteristics that set outstanding leaders apart from average or below-average ones. Two aspects of leadership that men excelled at over women were having a strategic perspective and technical skill.
promoting innovation and creativity within your workforce: Gender diverse teams bring a range of experiences, new perspectives, fresh ways of thinking, and alternate methods of problem-solving. More than 70% of CPOs claim that having more women on their teams has improved creativity and innovation.
Gaining access to more talent: Women who make up a small or nonexistent portion of the procurement team are losing out on the chance to use their skills and talents to benefit the company. Having access to this talent pool can help your parent company's productivity and financial performance tremendously. Beyond your immediate workforce, your supplier base should include businesses run by women. You will have access to a wider range of suppliers and those suppliers will have access to additional opportunities by helping their business in this way. As awareness of this standard increases, establishing it will also have an impact on more general standards within the organization as a whole and the workforce as a whole.
Increased employee retention: When employees feel valued and included at work, their productivity increases and they look forward to coming to work every day. Women are significantly more likely to stick with an organisation if they work on a diverse team where there are equal opportunities for promotion for men and women.
Promotion and Training: Providing training programmes for both men and women is a great way to advance gender equality. You may alter the training sessions based on the skills you wish to cover—negotiation strategies, buying from supplier networks managed by women, etc. According to research from The Knowledge Academy, nearly one-fifth (18%) of employers are more likely to sponsor on-the-job training for a man than a woman. This is because each gender receives a distinct kind of training at the workplace. While courses on equality and diversity are provided to women, men are more likely to take classes that will improve their management and leadership skills. Procurement teams who are transparent about the pay rates of the roles they are advertising have already made significant progress toward gender equality. It will be possible to ensure that female procurement professionals are paid an amount that is comparable to and equal to the quality of their job by eliminating the gender pay gap. Giving women more opportunities for job growth also helps to improve the proportion of women in leadership positions.
A company's bottom line eventually gains from a combination of increased innovation, pleased employees, a low turnover rate, and improved brand recognition. Investors are also more likely to support businesses that take diversity seriously and implement best practices because they exhibit good leadership. Companies with gender diverse executive teams are 21% more likely to achieve above-average profitability, according to a McKinsey and Company report.
What's the next step?
Women in procurement and the supply chain have a promising future. In European countries, women now make up over 60% of students enrolled in master's programmes in procurement and supply management, suggesting that there is a wealth of top female talent ready to revolutionize our teams in the future years. The only thing we have to do is make sure we have the tools necessary to help them develop their gift and not let it go to waste. Here are a few strategies:
1. Launch a mentoring programme: It is important to recognize the value of providing young procurement and supply chain experts with visible role models. The opportunity to observe the successes of senior women in procurement motivates other women to set high standards for themselves and have confidence in their capacity to succeed. Excellent ways to do this include reverse mentoring programmes, which allow younger employees the ability to inform senior leadership about concerns affecting the company. By acknowledging their accomplishments and showcasing them as role models, procurement and supply chain leaders should aim to increase the visibility of high-achieving women in general.
2. Set goals and objectives: Not all firms are in favour of the implementation of diversity quotas because they are worried that it would just become a checklist exercise. Initiatives may also lose their purpose if they don't have clear objectives and diversity recommendations with a purpose. Finding the right balance is essential to ensuring that diversity programmes are successful and that everyone on the team is on board. For instance, you might require at least one woman to be on every interview panel, final interview round, and promotion shortlist. Offering rewards, setting objectives, and being open and transparent about your hiring methods and statistics will all help with the change.
3. Education and training: Procurement and supply chain leaders should encourage honest and open conversations regarding diversity and inclusion initiatives at the workplace. Even the best programmes can suffer from "equality backlash" or a lack of support from the workforce. Take the time to explain to your workers the reasons for the changes, providing context, supporting evidence, and an outline of your end goal, along with the adoption of new policies. If you do this, everyone will feel involved and more likely to support you in your endeavours. Offering formal education such as unconscious bias training is a great way to enhance gender diversity in your workforce, especially among hiring supervisors.
4. Work with women-owned suppliers: A key tactic for advancing gender equality outside of the workplace is to set goals for dealing with women-owned suppliers. According to WeConnect International, women-owned businesses receive less than 1% of global corporate spending. You can identify suppliers who are women-owned businesses by using supplier filtering tools like Thomas. A varied pool of suppliers has benefits such as increased innovation, improved brand awareness, improved customer relationships, and more supplier competition.
5. Support flexible work arrangements: Organizations may considerably improve gender diversity in the workplace by addressing and modifying their attitudes toward flexible working. The benefits that working parents will find appealing include permitting remote work for employees and supporting part-time work or flexible work schedules. All employees who juggle work and family obligations must be supported by their employers. If men are given generous parental leave and are encouraged to use it, women will advance in the workplace. Some companies have gone a step further by offering on-site childcare or allowing parents to bring their children to work. Employers should assess an employee's performance based on their output and value added rather than how many hours they spend sitting at a desk.
Help us reach our objective which is product procurement from women. Start procuring now.
SOURCES-
https://www.oxfam.org/en/why-majority-worlds-poor-are-women
https://una.com/resources/article/women-in-procurement/
https://www.procurious.com/procurement-news/procuring-diversity-how-gender-equality-can-benefit-your-company
https://www.ungm.org/Shared/KnowledgeCenter/Pages/PT_GRP
https://msme.gov.in/public-procurement-policy