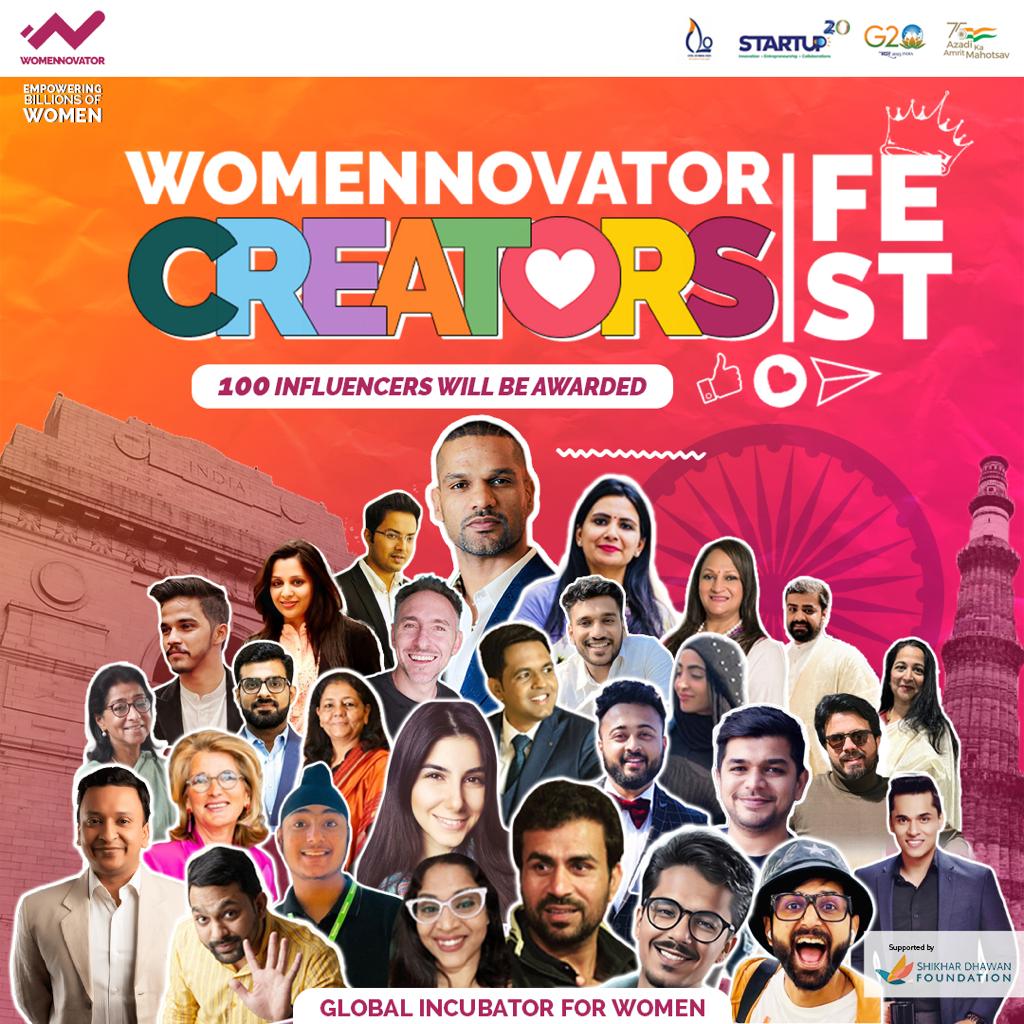 Womennovator Creators Fest 2023
Apply for Creators Fest HERE
Know more about Creators Fest
To become our partner or sponsor - CLICK HERE
In today's world, women are playing a crucial role in shaping the future and making a difference in society. However, their contributions are often overlooked, and their voices are not heard. With the rise of social media, content creation has become an essential tool for change-makers. With this thought, Womennovator is pleased to share about our upcoming Creators' Award which is a unique platform that recognizes the efforts of 100 women influencers and content creators who are working towards making a positive impact on society through their content.
The main aim of this award is to provide a much-needed platform for these women to showcase their talent and inspire others to follow in their footsteps.
The award is open to all women influencers and content creators who are using their platforms to bring about positive change in society and has a followership of 10k and more.
Women Influencers from across different categories can apply for the awards. The categories are as follow:
Food blogger | Fashion & Lifestyle | Gaming | Travel | Beauty & Wellness | Health & Fitness |Banking & Finance | Content Writer | Mompreneur |Music and Entertainment |Technology |Entrepreneurship |60+ seconds innings | Others
Highlights of Womennovator Creator Fest 2023:
Celebrity Endorsement Cricketer Shikhar Dhawan
Proposed Chief Guest Shri Piyush Goyal (Minister of Commerce & Industry (2019-present), Consumer Affairs, Food & Public Distribution (2020-present), Textiles (2021-present) and Leader of the Rajya Sabha (2021-present).
30+ Speakers and 50+ supporters with Outreach of 1 Million plus from Meta, Linkedin , Twitter , Google , UN women etc. Know more about them here
250 + Influencers with 1 Million + audience reach
Awards| 100 female content creators with followers of a Minimum 10K
60 second pitch by 100+ women influencer.
Fireside Chat and Panel Discussion
Launch of Womennovator's 10K Womennovator Awards and Global Yatra ( Road show)
Networking & After Party for Opportunities for Brand Tie up, Mentorship, Funding, Technology, Marketing & Strategic Support.
Launch of Womennovator 10 K Global Awards and Womennovator Global Drive ( Yatra) -
Female Influencers from Tier 2 and Tier 3| Age 20 to 45 | Influence the new-age content creators with your brand
LIVE Coverage | National Television | Radio partner | Online Media
An audience comprising Ministry Officials, Parliamentarians, Diplomats and Ambassadors in private Networking Events, Venture Capitalists, Mentors and other Key-Note officials.
Policy suggestions for Women Empowerment to respective Ministries and Parliamentarians.
Attended by Top Women Leaders and Influencers.
High visibility, with 1.92 million audiences.
This award is a testament to the power of content creation, and the role that women can play in shaping the future of our world.
For any further clarification or more information, you may get in touch with we@womennovators.com with cc to tripti@womennovators.com